The High Price I Had To Pay: Sentenced To 12 1/2 Years For Victimizing Lehmen Brothers Bank

Mar 28, 2015 | Kindle eBook

Auto-delivered wirelessly

Sold by: Amazon Digital Services
High Price I Had To Pay by Jamila Davis ★★★★★
Posted by: Naka Jackson Book Reviews, Lead Story
Editorial Review
If you are not already privy to the race/class imbalance of the USA, this amazing story will make your eyes pop out of your head in disbelief – if you are, like most of us, this tale is just about the seal on the deal. A 25-year-old woman without a college degree at the time, gets accused of bringing down Lehman Bank for millions of dollars. Yes, actually breaking a huge investment bank. Her male, white bosses get paltry sentences while she gets 12.5 years in jail.
Jamila Davis, an African American from New York, was seen all over the news, her mugshot plastered wherever newscasters could get it. The FBI testified to Jamila's full guilt, and had the court sending a mother of young children to prison for their entire remaining childhood.
This memoir penned by Davis herself is her story: how she became embroiled in a situation and then the court case that ensued.
Jamila admits what she did do: something of a flip in a loophole for properties owned by rich and famous rappers and the like. She lived the high lifestyle in a beautiful apartment with an elevator in the middle and had a fleet of cars, jewels, and more. But she was not being honest, and this caught up to her – she is contrite in this. But to award her such a sentence for a white-collar crime, and to demonize her in court is clearly not justice. Her law team failed her, one even killing themselves.
Talking about overincarceration and social issues for women such as herself, Davis has gone on to be the unique inspiration for her family, and for many other incarcerated women. She has started a publishing imprint with her parents, Voices International, and speaks to inmates about how they can heal their lives, and survive jail. Her son has been inspired to create a very successful celebrity clothing line to push himself through college. Her daughter writes amazing motivational prose. Maybe Jamila's kids would have been this way anyway with this intelligent, word-savvy writer for a mom, but it's a testament to her remote parenting skills all the same.
While maybe the end of the book speaks too personally and emotionally about NJ Governor Chris Christie and the way that he supported Jamila's incarceration, she has a point. The Old Boys' Club is alive and well in New York State, and there's no justice in sight for most women of color accused of non-violent crimes in America if they can be made a scapegoat. Lack of resources compared to her counterparts made it easy to pin it on the younger and less experienced defendant here.
This is a cautionary tale, but also a real champion's one also, and stands as a testament to the power of positive thinking even in the worst of situations in today's hard, cold world, and to be honest, shows that America's interior race relations fundamentally have moved very little in three hundred years. A must-read for anyone looking for an inspirational women's story with real themes to be discussed right now.
She's All Caught Up! aaambookclub
The High Price I Had To Pay! Smore Magazine
She's All Caught Up! Snore Magazine
She's All Caught Up! Small Press Book Review
 Small Press Bookwatch: August 2014 James A. Cox, Editor-in-Chief Midwest Book Review 278 Orchard Drive, Oregon, WI 53575
  Critique: An exceptionally well written and dramatically candid account, Jamila T. Davis' personal story is very highly recommended reading, especially for teenagers and young adults facing similar backgrounds and temptations. "She's All Caught Up" is very highly recommended reading and would make an enduringly popular addition to school and community library American Biography collections.
Pacific Review She's All Caught Up! Reviewed by Nicole  Sorkin
Pacific Book Review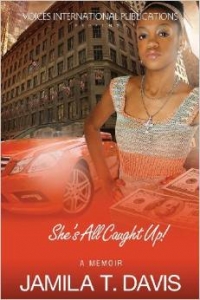 She's All Caught Up!
Title: She's All Caught Up!
Author: Jamila T. Davis
Publisher: Voices International Publications
ISBN: 9780985580735
Pages: 331
Genre: Nonfiction- Memoir
Reviewed by: Tania Staley, Pacific Book Review
Book Review
Jamila "Jamie" Davis had everything she needed to grow up into a successful young woman.  Jamie's father worked long hours to give her the money and provisions he never had growing up.  Her mother saw her potential and encouraged her every step of the way—teaching her to read at age 3, putting her into dance classes at Bernice Johnson's Dance School and acting classes at The Laurelton Theatre of Performing Arts, and finally helping her get into LaGuardia High School of the Performing Arts, the school famous from the show Fame.  She came from a godly family, attended church every Sunday, and the Holy Spirit was a living, breathing force that her grandmother had taught her to feel.  So, what makes a good girl, go bad? That is the ultimate question that Jamila Davis hopes to answer with her memoir She's All Caught Up!.
For all the prestige of her education and the stability of her home life, Jamie believed there was more to achieve.  Growing up in Queens in the late 80's and early 90's immersed her into a culture that associated success with power and money, and the belief that it should be obtained at any cost.  Always acting older than her age, Jamie admired older girls who had hustling boyfriends that could buy them anything they wanted.  She wanted it all, the designer clothes, fast cars, and danger.  Ignoring the darker side—teen pregnancy, turf wars, and drug busts—Jamie immersed herself into a world of fast money and dangerous men.  Soon, realizing that real power comes from independence, Jamie became her own boss.  But her lifestyle came with a risk, and she would eventually have to pay the toll of her actions.  All caught up in the fast life, Jamie never realized that she was sacrificing her freedom.
She's All Caught Up! is Jamila's warning to other girls who are running down a path of self-destruction. Her memoir is written with an honesty and breadth of detail that is quite compelling. The author doesn't try to justify her actions or lay blame.  Instead she delves into the inner machinations of her mind that led to her decisions.  Also, unlike other memoirs that deal with topics like hers, Jamila's book doesn't strive to belittle the experiences of others going through similar situations or take scare tactics to push the reader to take a different stand.  Instead, Jamila gives an open account of her thoughts and fears while growing up, gently warning the reader that the negative results she has experienced could be the reader's, while at the same time reminding them that she has felt the same emotions and gone through similar struggles.  This is an excellent book for anyone struggle with doing right in life, whether it be something as illegal as drug running or as common dating someone you shouldn't.  She's All Caught Up! is a quick, entertaining read that is sure to have readers cast a light of inspection on their own lives.  I truly enjoyed it, and I hope to have the opportunity to read Jamila Davis's next book, The Trade Off.
She's All Caught Up! PR Log Press Release by Nicole Sorkin
She's All Caught Up! Review authorsden.com
The Author's Corner
FANS Voices
Reviews from Amazon, Barnes and Nobles, Smashwords
Anonymous (Barnes and Nobles)
Posted August 4, 2014
Great read! I can't wait until the next book.  I love the fact that it was a true story that I could relate to. Brillant author.  She makes you sit and think about life choices. I pray for her and her family because this is real life we are reading about as she is writing from a jail cell. Thank you Ms. Davis for bringing word to life.
A MUST READ FOR ALL TEENAGE GIRLS AND THEIR MOTHERS…….
By ivyturk on February 28, 2014 (Amazon)
Format: Paperback
"She's All Caught Up" is a true story that exposes those seemingly innocent moments in a young life where things can spiral out of control and change the course of that life and the loved ones in it, forever. It is a must read for girls and their moms who will walk away from the author's story with great emotion and a new understanding of just how important good communication is through the good, the bad and the ugly moments of growing up. There are so many young women today that could benefit from this painstakingly honest outpouring. It should be read by all.
My reality in this book… A must read!!!!
By Adelle Walker on February 18, 2014 (Smashwords)
Format: Paperback
This book is a page turner! I read it in a day. It transformed my thinking in such a major way! As I watched the destructive pattern cycle that the author got caught up into, I couldn't help but to think about my own teenage children. Sometimes the signs are in our faces, yet we refuse to see things as they really are. My heart goes out to the Davis parents, Ms. Davis in particular. In many ways, she reminds me of myself. As a parent you want the best for your children so you give them everything, even things you never had as a child, hoping this will contribute to their success. If your kids fail, you feel as though you failed too. Worst off, you are challenged to figure out where you went wrong. I believe this book will help both parents and teens identify pitfalls and avoid them. People of all ages can learn from the author's mistakes. This MUST read book is not only entertaining, it also serves as a teaching tool. Many will learn from it!
By Sunchild on January 31, 2014 (Amazon)
Format: Paperback
This book captures the story of a young girl who was raised by both parents in a middle class section of New York but through various influences became heavily drawn to the fast paced street life that her parents were attempting to protect her from. Her love of money and "things", which were ultimately being used as a tool for self validation due to her lack of self love, causes her to become "caught up" in a life that, in the end, sends her spiraling out of control. This book is exceptionally well written and I would recommend it to anyone regardless of age or gender because I believe everyone can relate to and/or be moved by author Jamila T. Davis story in some way or another. But I would especially recommend this book to young women who are dealing with the woes of adolescence and who may need to be cautioned, yet uplifted, by reading about the life of someone who has been in their shoes.
Posted February 24, 2014
She's All Caught Up is destined to become a classic! This real-l
She's All Caught Up is destined to become a classic! This real-life, cautionary tale clearly depicts the life of an African American girl struggling to find herself, caught between many powerful societal influences, both positive and negative. The story captures the heart of life in the 80's- 90's, during the rise of the hip hop generation. The clothes, the songs and the slang terms mentioned will instantly take you back in time!    Jamila was caught on both sides of the fence, trying to please her parents and wanting to be accepted by the so-called "cool Kids" in her neighborhood. Overnight, she turns from a good wholesome student, striving at the legendary High School of Performing Arts in New York City, to a infamous, savvy street hustler. The author brilliantly tells the "how" and the "why" her life spun out of control, ultimately landing her a lengthy sentence in federal prison. Pretty intense!   This is definite page turner! At times it will cause you to laugh, and at times it will also cause you to cry. Ultimately, it will make you stop, think and reflect. Good stuff!!!
 © Copyright 2014 Voices International Publications- All Rights Reserved.